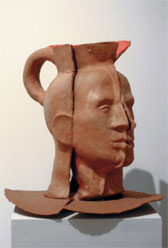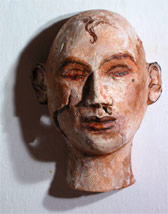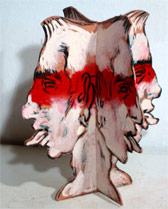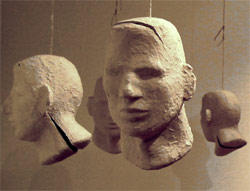 "Peaceful Heads" and "The Salome Excavation"

Andreas Jaeggi's work explores the concept of art as the product of history and past events, the offspring of its precursors. He contends that only after it has been dissected and digested by art critics, reproduced and distorted by photographers, and forcibly driven into our conciousness do we appreciate a work of art. Even then, he says, these mere vestiges of a truly original artwork are elevated to such a place of distant veneration that a visceral, impulsive and sincere response to the piece is precluded.

Thus Jaeggi cultivates this artistic obsession with the archaic and the revisited, plunging into and surpassing the entrenched conceptions of art as a consequence of protracted historical and critical processes. And yet, he does so not without an element of humor, a hint of deception, and, ultimately, the subversion of the conventional (and tedious) approach to appreciating art. The pieces in his exhibition, "The Salome Excavation" are "to be perceived in a way of a completely phoney monumental historic movie of B-class: a choice selection of fake antiques ..."

"The Salome Excavation", a sculptural project in collaboration with Ron Rubey, features twenty-two pieces inspired by the biblical chronicle of Salome, the daughter of Herodias and stepdaughter of King Herod Antipas. In this New Testament account from the gospels of Matthew and Mark, King Herod agrees to give Salome anything she desires if she will dance before him. Salome requests and is granted the head of John the Baptist, presented to her on a platter. The story of Salome has been a popular subject of Christian art throughout the ages, in representations by famous artists, and in various operatic and text versions by renowned writers. An internationally recognized classical opera and concert singer as well as an artist, it is no wonder that Jaeggi chose to recreate a story so powerful in the world of opera.

"The Salome Excavation" includes various figurative sculptures such as "Salome's Gold Mask", "Salome's Make Up Palette" and "Petite Salome", which describe the face or head of a young woman who so infamously caused the beheading of a revered saint. Other figurative works depict a four-headed King Herod, a startling scarlet head of Jokanaan (Oscar Wilde's version of John the Baptist) and the sanguine figure of Narraboth, a young captain of the guard who kills himself after his love for Salome is rebuffed.

Each work is a subtle integration of ancient art forms and contemporary processes and sensibilities. Through this collection of invented artifacts, sculpted from acrylic modeling paste, clay, papier-mache, metal, egg tempera, acrylic, color pigments and various other materials, Jaeggi reconstructs the strange and dramatic narrative that has intrigued, entertained and haunted audiences for centuries.

Jaeggi describes his most recent installation "Peaceful Heads" as a "floating graveyard of severed heads hanging from the ceiling at eye level", a prospect of "great calmness". These suspended visages are not representations of the realitites of the act of death and the suffering surrounding it, but rather an expectation of death as a state of great serenity, even a liberation from the miseries of the living world. Sculpted from clay and enhanced with oil and acrylic paint, these portraits of death are also visions of youth and tranquility. Between the blanched, hovering heads and the earthen, pondereous forms of their tombs exist a vacant space of great potency, a void composed of the absence of body, perhaps, or the presence of ethereal spirit.

In reinventing ancient themes and incorporating elements of classical sculpture into his work, Jaeggi explores the concept of originality, reproduction and the lifespan of a work of art. While striving to depict an archetypal human being as in the tradition of ancient Greeks, Jaeggi also captures the contemporary aesthetic of the human body. Jaeggi was born in Basel, Switzerland, where he studied art for many years before going on to exhibit his work in group and solo shows throughout Europe and in the U.S. He has been invited to perform in numerous international opera houses and has been a permanent member of the Paris-based musical theater ensemble Company Alain Germain as a performer, and as a costume and set designer.

ArtisSpectrum Magazine


Exhibitions: "Peaceful Heads" and "The Salome Excavation"
Agora Gallery SoHo / Chelsea, New York City